Sign up for our newsletter and be one of the first to hear about our special offers …
An Atlantic Odyssey
Connemara is that wild hinterland on the west coast of Ireland, bounded on the north by Clew Bay, on the south by Galway Bay and on the east by Lough Corrib and Lough Mask.  
Our Wild Connemara is truely an Atlantic Odyssey: secluded beaches, indigo seas, sheep dotted hills – a delightful journey that immerses you in the heart of the towns and villages, coastline, islands and vistas of the West of Ireland. Come join us on this delightful and memorable bike tour and celebrate our Wild Coast's inherent beauty.
Day One : Connemara's Captial
The bohemian capital, Galway City with its flavourful Latin Quarter and myriad of medieval streets is known as the 'City of the Tribes. It is a romantic city and one in which your tour begins. From here you travel through landscapes and vistas of Wild Connemara. Arrive in Clifden, regarded as 'the capital of Connemara', a delightful market town set against the majestic backdrop of the Twelve Bens mountain range. This colourful town has a special magic of its own and lures visitors back time and time again!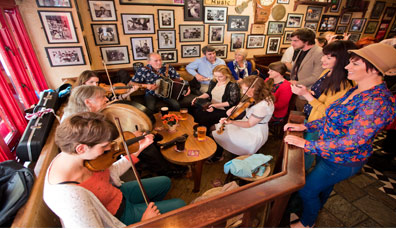 Day Two: Wild Bog and Lobster Pots
Weave your way through Derrimiglagh Bog ~ where sheep will be your only company. The road is undulating and your sorrounds are wild and mysterious, a mosaic of tiny lakes and peat. Here,  two remarkable events occurred in the 20th century. The first permanent transatlantic radio station was built by the Marconi Company over a century ago, and not far away is a monument to Alcock and Brown, who crash-landed (without injury) into the Bog in 1919, bringing an end to the world's first nonstop flight across the Atlantic.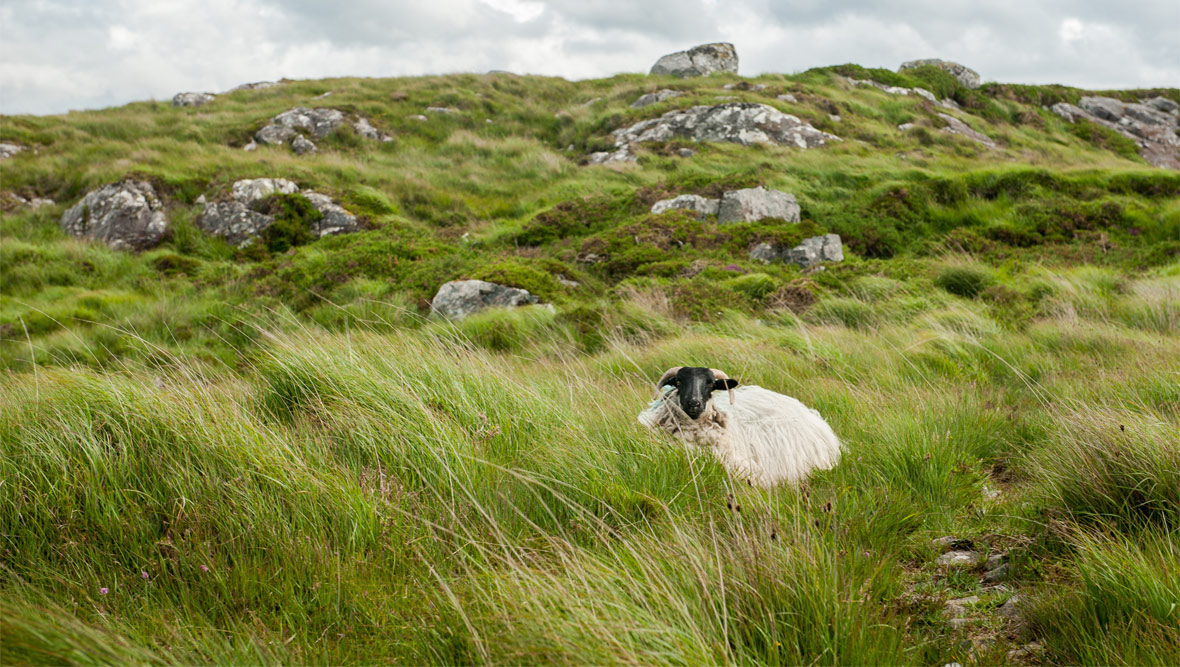 Arrive just in time for lunch, to Roundstone village, where local fishermen arrive with the day's catch. Roundstone is a popular holiday resort renowned among artists and naturalists for the remarkable beauty of the surrounding mountains and seascapes. It has a traditional craft centre where you will find Connemara Pottery, Jewellery and Instrument making. The village itself boasts a good selection of Pubs and Seafood Restaurants crammed full of locally caught seafood. Strolling through the village you will discover some fantastic craft shops and cafés.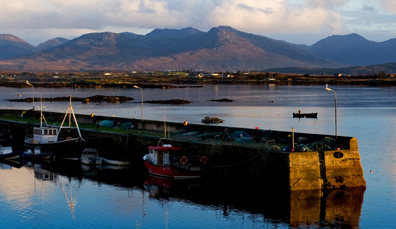 Day three: C'est Magnifique!
The panoramic Sky Road leads westward from Clifden to the Atlantic coastline. The Sky Road also passes by the ruins of Clifden Castle, the former home of the town's main founder and local landlord, John D'arcy. Continuing north, the route will take you to the Connemara National Park at Letterfrack and to Kylemore Abbey and Gardens.  The dramatic landscape and iconic image of a gothic castle reflected in a Connemara lake has made Kylemore Abbey world-famous and it is now the largest tourist attraction in the west of Ireland.
Here, the Benedictine nuns invite visitors to experience the Victorian atmosphere of the Abbey's restored rooms, miniature Gothic church, head gardener's house and garden boy's house. Learn of the tales of tragedy and romance, the engineering initiatives, model farms, royal visits and the Abbey's former role as a girls boarding school.
The Victorian Walled Garden at Kylemore was created along with the Abbey in the late 1860's one of the last great gardens of the period. Originally the Gardens held 21 heated glass houses producing all kinds of exotic fruit and vegetables and were laid out in lavish style. Over the years as the Abbey changed hands the gardens gradually fell into decline until eventually the walls stood guard over nothing more than brambles and weeds. Today however the splendor of the gardens has returned.
Day Four: Killary Harbour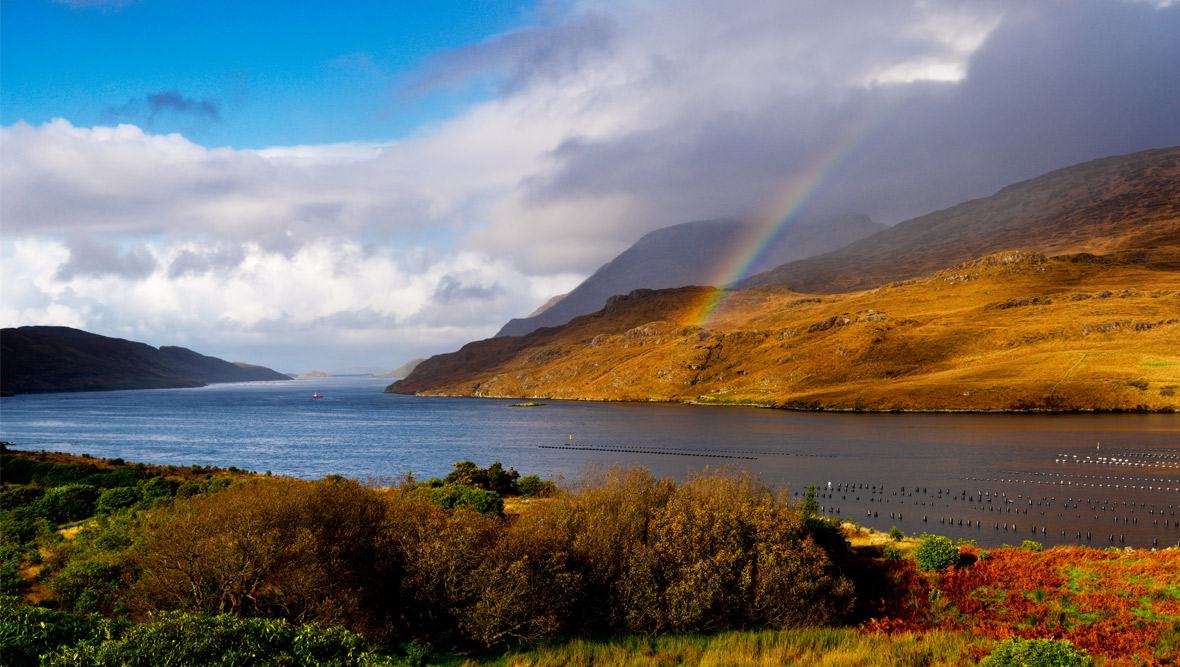 Killary Harbour, Ireland's only fjord, is a long, narrow and picturesque inlet from the sea. Killary is also well known for producing some of Ireland's most delicious mussels – taste the celebrated shellfish at the annual Connemara Mussel Festival in nearby Tullycross village. An incredibly calming place, it was this peacefulness that drew the famous philosopher Ludwig Wittgenstein to stay after WWII to write Philosophical Investigations, his famous work.
Day Five: Clew Bay Coast
Cycle through the 'Valley of the Buttercups' – Louisburgh village is a step back in time – and follow the coastline of the majestic Clew Bay into Westport. En route, you may decide to climb Croagh Patrick, the pilgrimage mountain of St. Patrick. The trail is easy to follow and you may choos to stop for a photo opportunity or to climb the full trail to the little chapel on the mountain top. Arrive into Westport in time for a cooling pint of Guinness!
Day 6: Sadly we bid you farewell.
For more details of this trip please contact tours@cyclewest.com
Renvyle House Hotel
Renvyle, Connemara, Co. Galway, Ireland.                                               T: +353 (0)95 46100 F: +353 (0)95 43515 E: info@renvyle.com
This historic country house hotel, situated on the Wild Atlantic Way in Connemara on the shores of the Atlantic Ocean has been open to guests since 1883. The hotel is located on 150 acres which include a private lake, a par 3 golf course, a beach, woodlands, gardens and numerous activities on site including golf, tennis, swimming, boating, fly-fishing, snooker, boating, fishing, lawn bowls, croquet and clay pigeon shooting.
Rebuilt in the Arts & Crafts style of the 1920's after the Irish Civil War this is considered a building of architectural importance and it has been the ethos of Renvyle's owners over the last few decades to source bedroom furnishings designed and made in Ireland in keeping with the movement.  The hotels award winning restaurant serves the best the region has to offer including Irish beef, Connemara lamb and game dishes alongside seafood dishes using fresh fish caught daily off local shores.
This is an award winning hotel for hospitality over the years, with recent accolades including 'Best Customer Service in Ireland', Irish Restaurant Awards, 2014 and 2013 McKennas' Guides '100 Best Places to Stay in Ireland' 2014 and 2013.
Lough Inagh Lodge
Recess, Connemara, County Galway.                                                Telephone: +353 095 34706, Email: inagh@iol.ie
Lough Inagh Lodge 4 Star Connemara Hotel is nestled in spectacular scenery, in the heart of Connemara. The Hotel rests on the shores of Lough Inagh, one of the region's most beautiful lakes and is surrounded by majestic Mam Turk and Twelve Bens mountain ranges on all sides. A perfect haven for complete rest, relaxation, and romance this hotel offers you all the comforts and pleasures of an elegant, modern hotel in an old-world atmosphere.
Lough Inagh is also perfectly placed to take advantage of a number of outdoor pursuits and activities including hill walking, fly fishing, cycling, golf, sight seeing, exploring. It has large, well-proportioned rooms, interesting period detail and lovely fireplaces with welcoming log fires, as well as all the modern comforts. Public areas include two drawing rooms, each with an open fire, and a very appealing bar with a big turf fire and its own back door and tiled floor for wet fishing gear.
Guests are invited to choose from a varied menu featuring only the best seasonal ingredients which are carefully sourced from the finest local suppliers, such as award winning McGeough's Butchers and Connemara Seafoods. Seafood and wild game dishes are specialities of the house and are complemented by an excellent wine list.